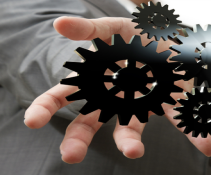 MetaLogix Systems Integration Consulting helps clients solve business problems, accelerate business innovation and create opportunities to drive high performance. We are here to optimize the value of your IT investments for improving performance and operational processes across Applications, BI and Data, and Infrastructure
We want to understand your goals and provide a clear vision of how to seamlessly integrate an accelerated solution to help you meet those goals. Whether using emerging technologies, our custom development capability or established packaged software from market leaders such as Microsoft, SAP and Oracle we solve industry-specific or shared enterprise problems.


Who We Are?
MetaLogix is a woman-owned, veteran-owned small business that specializes in standards-based, advanced concept engineering solutions for workflow, decision support and data modeling projects. MetaLogix is committed to architecting and integrating value- based vision- driven solutions for customers. Our unique blend of senior project managers, technical specialists and application developers –many who have previously served in uniform– have extensive experience in the delivery of IT solutions for businesses and major departments and agencies of the government.
Download Brochure
MetaLogix, VOSB, WOSB, HubZone Capability Statement